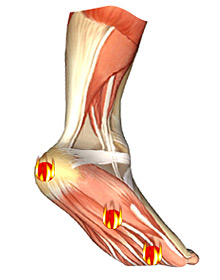 PROBLEM
Blisters are most commonly found on the foot in areas of excess friction and pressure. Blisters can be very painful and make running/exercise very uncomfortable. The most common cause of friction is excessive moisture or movement. In order to reduce moisture it is advisable to wear technical socks. To reduce movement we need to improve the function of the foot and the way it fits and works with the footwear.
CURREXSOLE SOLUTION…
CurrexSole Insoles are designed to support the foot limiting the extent of the pronation/supination and therefore the movement within the shoe reducing friction. CurrexSole insoles also increase the contact area between the foot and the shoe by increasing the contact area. High pressure areas are eliminated as the pressure is redistributed thunderneath the foot more evenly, thus reducing the chances of blistering. Lastly the Dry Trek top sheet is designed to transport moisture away from the foot, limiting the friction and the chance of blistering. N.B. If pain or discomfort persists, please seek medical advice.